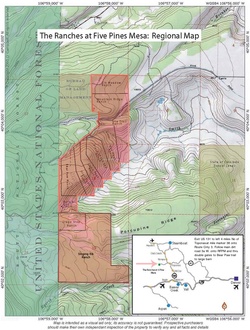 Link To Regional Map with Ranches
ttps://jumpchart.s3.amazonaws.com/uploads/142728/246691/2333063/1b5d8b2e5ea3f1021dd59d855f115a5fef24be0c/originals/2015-RFPM_regional_map.jpg?AWSAccessKeyId=AKIAJFNSDAAECTKAZOHQ&Expires=1491588789&Signature=f2mTDyr6aJ6uy9fjm6D51fnnc7Y%3
Property / Ranch Details
The 10 Ranches /Properties
Where are stage stop and singing elk on this list?
The Five Pines Property – 561.79 Acres
The Common Parcel – 53.63 Acres comprising the barn, guest cabin, Pond, and what else?
The Collins Property – 105.98 Acres ??
The Ward Property – 90.1 Acres ??
_______________________________________________
Bear Paw Ranch/Porcupine Ridge Ranch Combined – 106 Acres – Sally Beck – Ranch Estate
High Point Ranch – 61.58 Acres
Dome Peak Ranch – 60.59 Acres
Big Sky Ranch – 92.70 Acres
Red Hawk Ranch – 95.41 Acres
Ute Trail Ranch – 91.49 ranch
Elk Meadow Ranch ( The Ward Property) – 90.1 Acres
Mountain Ridge Ranch ( The Collins Property) – 105.98 Acres
h1. RANCH LAND / LOTS
* Shows the names of all Current Lots For Sale
* This page lays out all of the Lots/Ranches that don't have an "estate" or "home" on them yet.
* Gives basic name, overview, acreage and basic details with link to Agent if it's for sale
Ute Trail 95.41 acres $1,100,000
High Point 61.58 acres $1,100,000
Red Hawk 91.49 acres $1,100,000
h3. Big Sky Point Ranch
*Copy From Berkshire Hathaway Website*
Five Pine Mesa Offers Agricultural Taxes Only $25/Yr For 60 Acres. Community Cabin Affords Owners Enjoyment Before Building. Location Bordering One Million Acres Of Nat'l Forest. On-site Care Taker Assures Ease OfOwnership, Peace & Quiet, Space, Views And Access To Unlimited Recreation Activities. Build Your Retreat In The Woods And Make Memories Today.
Weinreich Group Website":http://www.weinreichgroup.com/landlots-for-sale/24300-Big-Sky-Point-Other-CO-80479-151072049
Current Price: $649,000
*High Point Ranch* – Links to the current broker
Red Hawk Ranch –
*Ute Trail Ranch* –
"Sotheby's PDF Link":http://www.coloradoranchandresort.com/1images/magazine/Winter%202008/27R&R0108.pdf
(27R&R0108.pdf)